The 2008 excavation season at Çadır Höyük was a productive one, lasting from July 3 to August 10 and involving a team of 17 archaeologists of all levels of experience. After clearing two years of erosion and thorny plant growth, efforts were primarily directed toward expanding existing trenches relating to the Late Chalcolithic, Iron, and Byzantine periods. Extension of the Chalcolithic trench on the south face of the mound did not reveal a continuation of the burned house as expected, leading instead to more questions than answers. A series of strangely arranged mud brick walls and a cache of large, flattened pottery were particularly befuddling. Meanwhile, the level of the Iron Age section of the South Step Trench was dropped, yielding bones, beads, and spindle whorls, but no surprises pertaining to stratigraphy. Expansion of the Byzantine terrace trenches unearthed more rooms as well as evidence of a stable and a kitchen. We were also able to drastically extend our knowledge of what lies beneath the fields beyond the terrace trenches with the use of a magnetometer. This technology, able to map stones still beneath the surface, provided a new, broad perspective of the late Roman town surrounding the mound.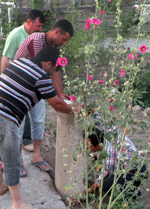 Some stone features would simply not stay buried, though, resulting in the Dig House getting a new lawn ornament. Half of a Byzantine column, likely from a church, was plowed up on Bilal's farm. Here it is being put into place after arriving in the back of Bilal's tractor.
A new law prevented the usual local farmers from participating directly in excavation this season, prompting a search for able bodied youngsters and elders from both Peyniryemez and nearby Yazılıtaş. Despite employing some real characters, local labor was stretched thin. Fortunately, a record number of volunteers from the University of New Hampshire – four in total – joined Greg McMahon on the dig and provided much needed strong backs.
As the season drew to a close, the project had one more first. A firetruck from Sorgun arrived during the day of final photos for the terrace trenches, allowing Sharon and Greg to reach new heights atop a ladder nearly nine stories tall. The two experienced a new vantage point on the foundations below, a breathtaking view, and a renewed appreciation for solid ground. You can see pictures of the event in the photo galleries.
List of Participants: Ron Gorny, Sharon Steadman, Greg McMahon, Jenni Ross, Bruce Verhaaren, Marica Cassis, Robin Dippie, Jeff Geyer, Ben Arbuckle, MJ Hughes, Laurel Hackley, Gabi Castro, Juliana McKittrick, Brice Pearce, Kaleigh Brooks, Tim Buttram, and Orion Wellinghurst.